Keynotes, Half & Full Day Programs to Fit Your Needs:
The change journey never stops! This powerful program provides today's leaders with practical tactics that make change work. You'll learn how to generate and sustain commitment to a compelling vision and core values, sell the need for change, develop an organization that is excited to keep learning, encourage early problem solving, unite and motivate diverse teams, and focus resources to support your strategic business goals.
In good and bad times, leaders and professionals alike need to keep hope alive and shape setbacks, detours, economic downturns, and challenging global competition into strategic opportunities. This timely program will help you invent a future you can be proud of. Learn how to trade feelings of helplessness and frustration for flexible optimism, resourcefulness, and persistence as you make change work for yourself, your organization, and those you serve.
Claiming Your Communication Edge: The Art of Listening, The Power of Speaking
There is no more valuable skill for leaders to develop than effective communication. Two of the most important competencies that can give you a communication edge are effective listening and public speaking. Learn how to listen so that others are comfortable talking; learn to speak so that people listen. In the age of influence, the communication edge gives you and your team the advantage they need to produce strategic success. Whether together or as separate programs, these presentations makes a difference where it counts.
There's only one person who can motivate you...You! While many programs claim to be "motivational", this proven energizer is guaranteed to help you master specific motivation strategies that work on and off the job. You'll master self-talk helps, understand self-feedback tools, and embrace self-change habits that will have a lasting impact well after the program is over. You donít just want good evaluations; you want changed behavior months after the program is over.
Belief in the American Dream is at the heart of our pioneering and practical culture. In spite of these challenging times, America is still the land of opportunity. This presentation celebrates how individuals, empowered by freedom and opportunity, can still make their dreams a reality, limited only by his or her determination and natural abilities. Explore what must be done to sustain your optimism and sense of unlimited possibility that has been one of the hallmarks of America. Itís up to every generation to protect and teach the dream. Learn what you and your team can do to reclaim your American Dream!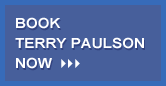 The Assertiveness Advantage: Dealing with Difficult Issues and Difficult People
In this age of cost-containment, competition and constant change, conflict is increased. Learn how to capitalize on disagreements and team diversity to produce winning results. By finding the assertive middle ground between doormat and steamroller, you can increase your influence batting average in dealing with the tough issues and your tough people! Explore how your actions can produce on-the-job enemies and how to use bridge-building strategies that trade polarization for trust and results.
While speaking for your event, consider sponsoring a program for schools in your area!